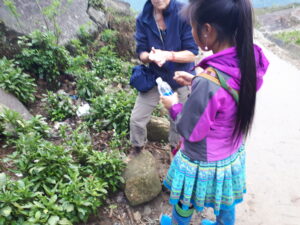 Belle en ik gaan deze ochtend alleen met Zhi op pad. Zelfs de Zwarte Hmong vrouwen ontbreken. Dat sterkt mijn vermoeden dat Zhi hierin een bepalende rol heeft.
Het is een bijzondere wandeling. Niet op en neer over steile, glibberige bergweggetjes, maar gelijkmatig door rijstvelden en dorpjes. We zien veel jonge dieren: biggetjes, eenden, ganzen en kippen. Zhi toont ons een plant die als basis dient voor het Indigoblauw in de kleding van de Zwarte Hmong. Ze laat ons de plant fijnwrijven tussen onze handen. Die van Belle slaan blauwgroen uit en volgens Zhi krijgt ze die kleur er in drie dagen niet meer afgewassen. Bij mij mislukt het. Ik wrijf te lomp waardoor de plant verpulverd op de grond ligt voordat het in staat is de kleurstof af te geven. Nou ja, dan maar geen blauwgroene handen.
Het grootste deel van de tocht wandelen Zhi en Belle voor mij uit. Een fragiel en lichtvoetig oosters meisje naast een zelfverzekerd doorstappende westerse vrouw. Zhi is nog zo jong en kent al zoveel tegenslag en verantwoordelijkheden dat het een volwassen vrouw of man zou kunnen breken. Maar ze is sterk en misschien heeft ze wel het geluk dat ze toch ook nog een beetje kind is. Dat ze nog half in draken en feeën gelooft en ondanks de zwaarte van haar bestaan nog iedere dag kinderlijk gelukkig en nieuwsgierig kan zijn. Dat ze nog kan gieren van de lach als één van haar collega-gidsen onderuitgaat op een glibberige helling. Maar hoe zal het gaan als ze op een dag beseft dat dit is wat het is? Dat het nooit beter wordt. Dat ze haar hele leven voor een lullige grijpstuiver onhandige toeristen op en neer over deze hellingen moet leiden.
Misschien dat haar liefde voor dit berglandschap haar redt of de positie die ze in de tijd heeft opgebouwd met haar opgeruimde karakter. Misschien ook dat het economische wonder dat dat zich in de afgelopen decennia heeft voltrokken in het land Vietnam doorzet, en in de nabije toekomst ook het woongebied van de Zwarte Hmong bereikt. Ik hoop het. Het enige wat ik zeker weet, is dat het lot haar verdomd slechte kaarten heeft gegeven en ik zie op tegen het moment van afscheid.
Na mijn douche in de homestay zie ik dat er alweer een nieuwe groep is gearriveerd. Zwaar bebaarde Fransen deze keer, die straks ook met ons meegaan in de bus naar Sapa. De zoveelste decor- en acteurswissel in een doorlopend theaterspektakel van en voor toeristen. We eten nog een door Nam bereidde lunch en dan komt het moment waar ik al de hele morgen de hik van krijg. Ik ben een ouwe sentimentele zak aan het worden. Dit betreft háár leven, niet het mijne. Dus verman ik mezelf, vraag haar of ik haar mag omhelzen – dat mag – en houd haar net iets te lang vast, terwijl ik haar zeg dat ze vooral sterk moet zijn. Eenmaal in de bus blijven Belle en ik kijken en zwaaien naar dat toch al niet al te grote figuurtje dat ook nog eens steeds kleiner wordt. We blijven zwaaien totdat Zhi helemaal uit het zicht is verdwenen.
Lees verder: Een wilde achtervolging dwars door Sapa