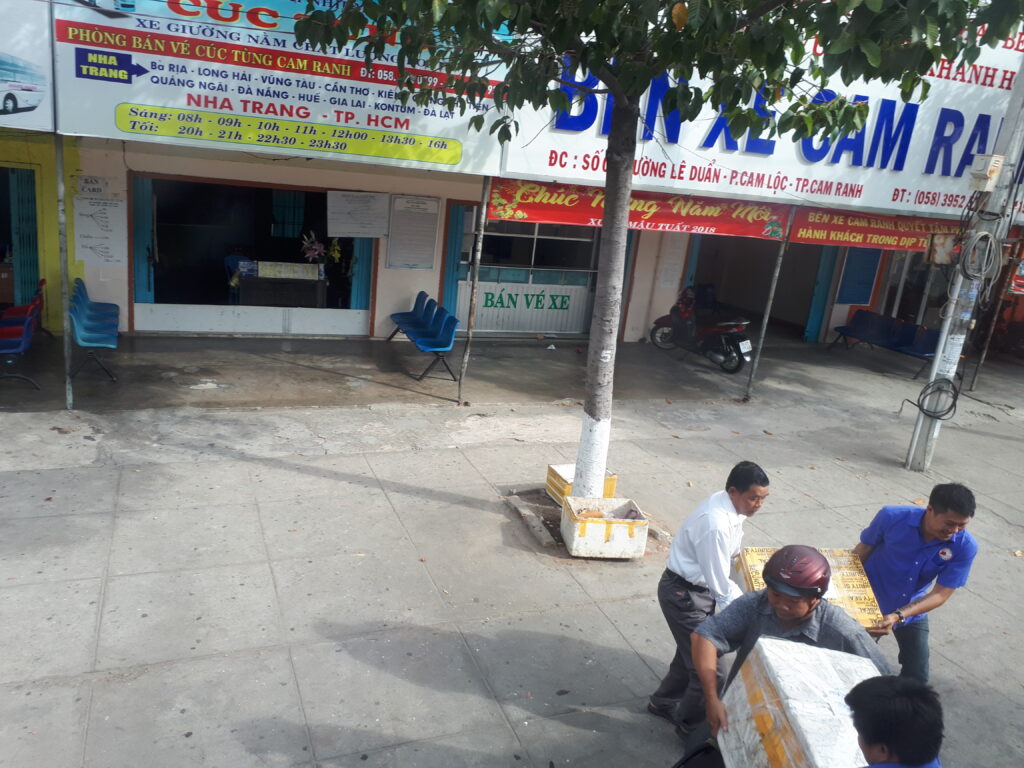 Als tijdschema's ontbreken, staat de mens centraal
Tot nog toe waren de reizen in de langeafstandsbussen duidelijk. Je stapte in op punt A en de bus reed – voor zover ik het kon beoordelen met mijn veelal dronken hoofd – in een streep naar punt B. Veelal met enkele tussenstops om te foerageren, maar over het algemeen werden er geen ingewikkelde toeren uitgevoerd.

De bus waar wij vandaag in zitten is anders. Het geeft me hetzelfde gevoel als de chaos in de trein tijdens de eerste week. Om te beginnen klinkt er voortdurend keiharde muziek. Zowel via de televisie als de radio. En van synchronisatie is geen enkele sprake.
Er wordt om de haverklap gestopt. Waarna de drie 'bijrijders' uitstappen om op straat een discussie of onderhandeling aan te gaan met wat mij volstrekt willekeurige voorbijgangers lijken. Die 'onderhandelingsgesprekken' worden echter steevast afgesloten met het door de 'voorbijganger' afgeven van een pakketje aan de 'bijrijders'. Het gebeurt echter ook regelmatig dat de pakketjes zonder uitgebreid overleg van beheerder wisselen. Dan is er blijkbaar in een eerdere fase iets afgesproken. Waarschijnlijk via de telefoon. Want de drie 'bijrijders' lijken vergroeid met hun mobieltje. Continu in contact met de wereld.
Tijdens één van de stops worden de bijrijders op straat – al telefonerend – nerveuzer en nerveuzer. Het overleg lijkt me intensiever dan gemiddeld. Uiteindelijk stappen twee van hen terug in de bus, terwijl de derde nerveus om zich heen kijkend wegloopt. De bus steekt achteruit, draait en keert terug over de weg waar we zojuist zijn gereden. We gaan terug naar de vorige stop om een groep mensen op te pikken die blijkbaar vergeten waren. Daarna keren terug naar de plaats waar de commotie begon.
De plekken waar we de mensen oppikken lijken me vaak willekeurig gekozen. Ik vraag me vaak af hoe ze precies die plek en dat tijdstip hebben afgesproken. Ik heb namelijk niet het idee dat de bussen via een strak tijdschema rijden. Ze stoppen, keren zoals hiervoor beschreven om en rijden terug naar een vorige stop. Geen enkel probleem allemaal. In vergelijking met onze westerse realiteit lijkt het tijdschema van de bus ondergeschikt aan dat van de passagiers. Is een passagier niet aanwezig op een afgesproken tijdstip, dan wordt er uitgebreid de tijd genomen om te onderzoeken waarom die persoon of personen niet aanwezig zijn. Pas als daar duidelijkheid over is of als de persoon/personen zich melden, wordt er doorgereden.
Lees verder: Een hele puzzel