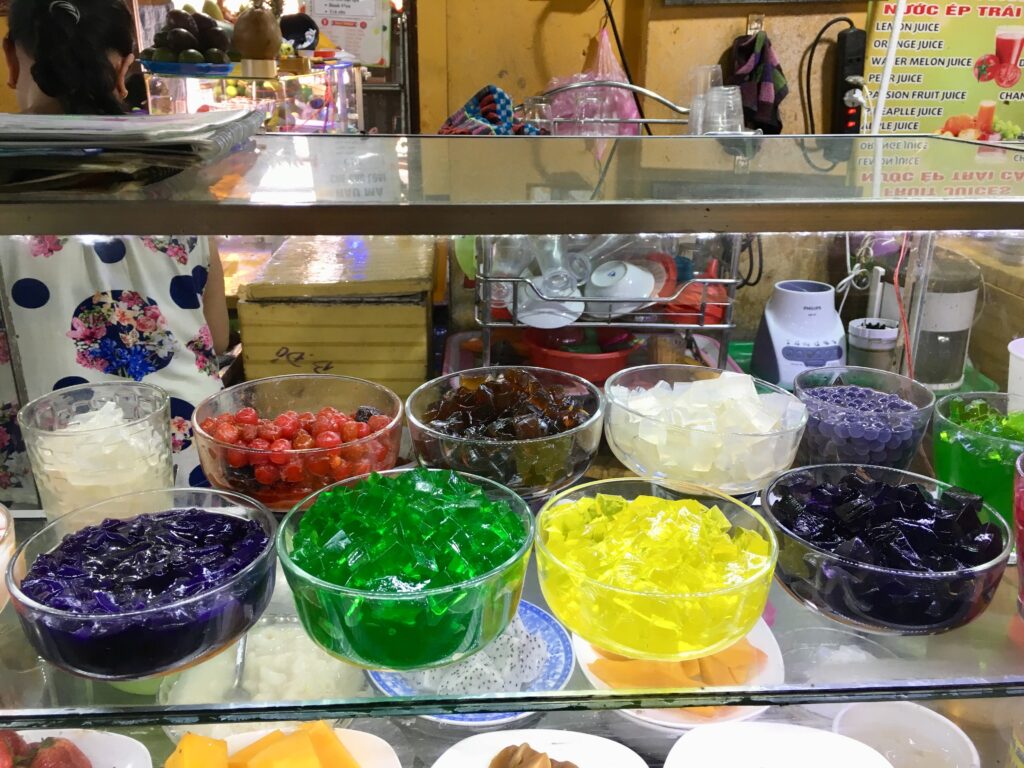 Altijd maar weer die karaoke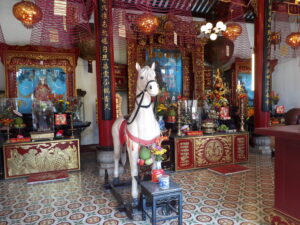 The Hoi An Red Frangipani Villa – zoal het onderkomen officieel heet – blijkt een plaatje en we worden ontvangen door een allerliefste, hoogzwangere jongedame (ik moet ermee stoppen om alle dames onder de dertig aan te duiden met 'meisje'). Tijdens het inschrijven verschijnt er een tweede bekoorlijk schepsel, met voor ieder van ons een licht alcoholische cocktail, waarvan ik uiteraard méér dorst krijg. Na de drankjes betrekken we ons onderkomen voor de komende twee nachten: een ruim opgezette bungalow met veel ramen. Zorgvuldig en smaakvol ingericht, maar vooral schoon! Het tegenovergestelde van Hotel Cat An in Hué.
Nadat we heerlijk hebben gezwommen in het buitenzwembad direct gelegen aan onze bungalow, drinken we nog een biertje en gaan op pad om een restaurant te zoeken. Die vinden wee op nog geen kilometer wandelen. Een absolute klasse zaak met gerechten die het niveau van eten dat we tot nog toe hebben mogen beleven in Vietnam ruim overstijgt. Zelfs ik proef de zorgvuldigheid waarmee de dim sums en de soep zijn bereid.
De jongedame die ons bediend stelt vast dat ze van westerlingen nooit goede recensies krijgt op Trip Advisor. Ik verzeker haar dat ik dat wél ga doen en dat ik man van mijn woord ben. Het is er tot op de dag van vandaag – ruim een jaar later – nooit van gekomen. En aangezien ik hun kaartje kwijt ben, mag ik mij van mezelf geen 'man van mijn woord' meer noemen. In dat soort zaken ben ik heel rechtlijnig en absoluut kortzichtig.
Ik heb al vaker gemeld dat mensen in Vietnam gek zijn op karaoke. Dat vinden wij westerlingen uiteraard ook wel aardig om te doen. Maar wij doen het graag voor een publiek van familie, vrienden en bekenden. En bij voorkeur met enig respect voor toonzuiverheid. Zo niet de Vietnamezen. Al zijn ze in hun piereneentje. Zo gauw ze de beschikking hebben over zo'n muziekkast en een microfoon, gaan ze helemaal los. Ook al zijn ze volstrekt muzikaal en zo schor als een kraai: karaoke über alles.
Nu zijn we wat dat betreft inmiddels wel wat gewend, maar de man die horen we tijdens onze wandeltocht terug naar The Red Frangipani slaat werkelijk alles. In eerste instantie hebben we niet in de gaten dat het zingen is wat we horen en in tweede instantie vragen we ons af of je dat wel zingen mag noemen. Het is dat hij wordt begeleid door muziek, anders zou je denken dat het iemand in doodsnood is. En tot onze niet geringe verbazing wordt er ook nog eens enthousiast geapplaudisseerd door het tienkoppige publiek. Wanneer ik voorzichtig om de hoek kijk, zie ik dat de man op een podium met complete lichtshow staat. Wonderbaarlijk. Het lijkt dus te gaan om een regulier optreden. Min of meer.
Lees verder: Over kleermaaksters, schoenmaaksters en draken