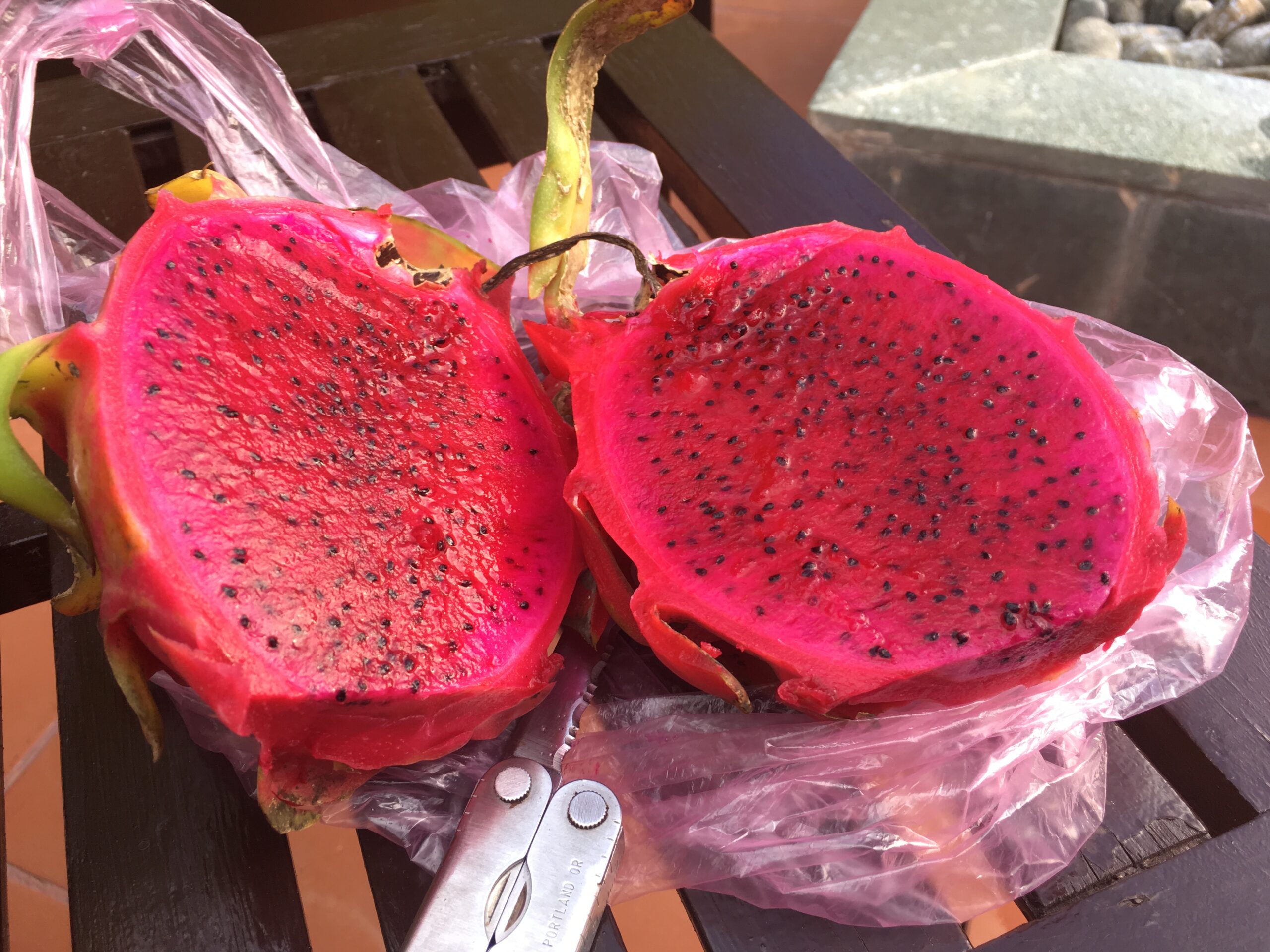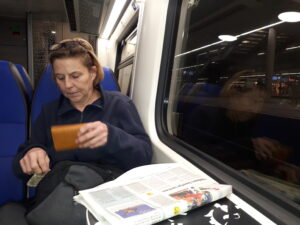 De avond vóór ons vertrek de e-tickets gedownload. Waren we bijna vergeten. Niet ongebruikelijk voor ons overigens. Dat proces verliep uiteraard ook problematischer dan vooraf verwacht. Zijn aan het eind van onze inspanningen ook niet zeker of de apps die we hebben gedownload allemaal werken zoals bedoeld. De hele santenkraam dus ook nog maar eens geprint. Neem mezelf voor om – mocht alles écht misgaan – naar Albanië te reizen en er over te schrijven alsof we in Vietnam zijn. Zal een volstrekt nieuwe kijk op het land geven. Op Vietnam bedoel ik. En misschien ook wel op Albanië.
De volgende ochtend worden we om 06.00 uur met de auto opgehaald door onze goede vriendin Annemiek en in Den Bosch kunnen we direct instappen in de trein naar Schiphol. Op het vliegveld kunnen we zonder noemenswaardige incheck- en douaneperikelen doorlopen. Betekent alles bij elkaar genomen wel dat we ruim tweeënhalf uur moeten wachten voordat ons vliegtuig opstijgt. We nemen een koffie. Belle een broodje erbij. Ik neem niks. Om maag en geest zo ontvankelijk mogelijk te houden voor de temazepam. Normaliter een slaapmiddel. Maar ik gebruik het tegen vliegangst. En andere angsten trouwens.
Bij onze gate worden we gebeld door een andere goede vriendin, Mirjam. Ze is stewardess en kent ons goed. Of we eraan hebben gedacht hoe we in Ho Chi Minhstad vanaf het vliegveld naar ons hotel gaan? Het zal er volgens haar hectisch aan toe gaan, met veel opdringerige taxichauffeurs. Heb je geen plan, dan kost het je geld.
Nee, daar hebben wij natuurlijk niet over nagedacht. We weten wél dat ons hotel op anderhalf uur lopen van het vliegveld ligt. Wellicht is dát een optie. Belle probeert het uit te zoeken via Google Maps en de Vietnamkaart die ze heeft gedownload. Maar dat loopt op niks uit. Bovendien bedenk ik dat we – tegen de tijd dat we in Ho Chi Minhstad arriveren – vijfentwintig uur hebben gereisd en dat het ter plekke tropisch warm is. Wellicht geen geweldig idee om dan met volle bepakking te gaan marcheren. We besluiten terug te vallen op onze gebruikelijke strategie én tactiek: We zien wel.
Ik ben tot nog toe redelijk relaxed. Zag in een taxfreeshop wel een fles Tanqueray gin nadrukkelijk naar me lonken met een prijs van 14,95 Euro. Maar ik heb de verleiding weerstaan. Wanneer ik daar nú al mee begin, arriveer ik volkomen lijp in Ho Chi Minhstad. Als ik halverwege al niet ben gearresteerd voor wangedrag en openbare dronkenschap. Ik beloon mijn standvastigheid met een halve temazepam.
Lees verder: In de vliegtuigmodus