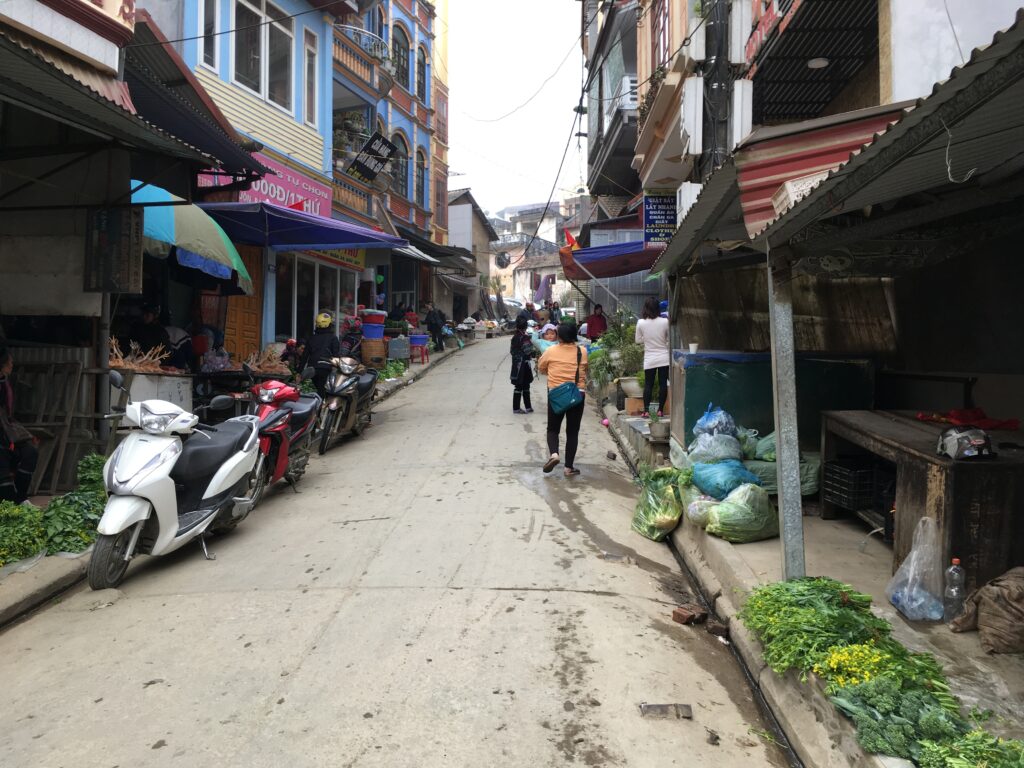 Vietnam past me als een maatpak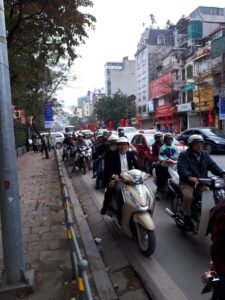 Ik heb van veel mensen die al eens in Vietnam zijn geweest vernomen dat Vietnamezen zulke wellevende en vriendelijke mensen zijn. Maar die twee kwalificaties zijn wat mij betreft niet bepaald de meest typerende kenmerken van de mensen hier. Ze schreeuwen, hun taal is afgeleid van de eenden, ze dringen schaamteloos voor of versperren je juist de weg. En ze gaan niet aan de kant, tenzij je ze wegduwt. Overigens maken ze daar absoluut geen probleem van. Niemand neemt aanstoot aan het aanstootgevende gedrag van de ander. Als iedereen lomp is, is niemand dat. Eigenlijk net als in het verkeer hier. Regels zijn er niet en zo lang iedereen dat maar respecteert, gaat het goed.
Mooi voorbeeld. De televisie in de trein toont een nepversie van The Fast and the Furious. Met hoofdrolspelers die best wel een beetje lijken op Vin Diesel en Paul Walker. Over de kwaliteit van het verhaal kan ik niets zeggen. Omdat ik het origineel niet heb gezien en omdat mijn Vietnamees te beroerd is om deze treinversie te begrijpen. Laat staan te beoordelen. De film is namelijk niet ondertiteld, maar opnieuw ingesproken. Het opmerkelijke is dat voor alle rollen dezelfde stemacteur wordt ingezet. Wat overigens niets uitmaakt. Iedereen heeft het toch te druk met tegen elkaar kwaken om de film te volgen.
Net op het moment dat ik – als voormalige zanger van een hardrockband – besef dat het decibellenniveau best wel hoog is, begint de machinist of hoofdconducteur met een uitgebreid verhaal over … Tja, waarover eigenlijk? Toeristische tips? Rijtijdentabellen van het treinverkeer? De aankondiging van een amusementsprogramma in coupé veertien? Ik heb werkelijk geen idee. Het hele verhaal wordt weliswaar in gebrekkig Engels vertaald, maar de boodschap wordt ernstig verstoord door het gekwaak van de passagiers om ons heen en het geluid van de televisie.
Je zou denken dat daarmee het toppunt van de auditieve waanzin wel is bereikt, maar het kan erger. Want te midden van deze auditieve chaos besluit één van de passagiers dat het tijd is voor een goed stukje Vietnamese muziek. Af te spelen op z'n zelf meegebrachte installatie. En de enige manier om zijn muziekkeuze werkelijk kracht bij te zetten, is door de volumeknop maximaal open te draaien.
Dus nee. Wellevendheid en vriendelijkheid zijn niet de karaktertyperingen die me te binnen schieten bij dit ongeregelde zootje. Maar ik vind de mensen hier wel helemaal geweldig. Tot nog toe past dit land me als een maatpak.
Lees verder: De verstoring van het onverstoorbare prinsesje