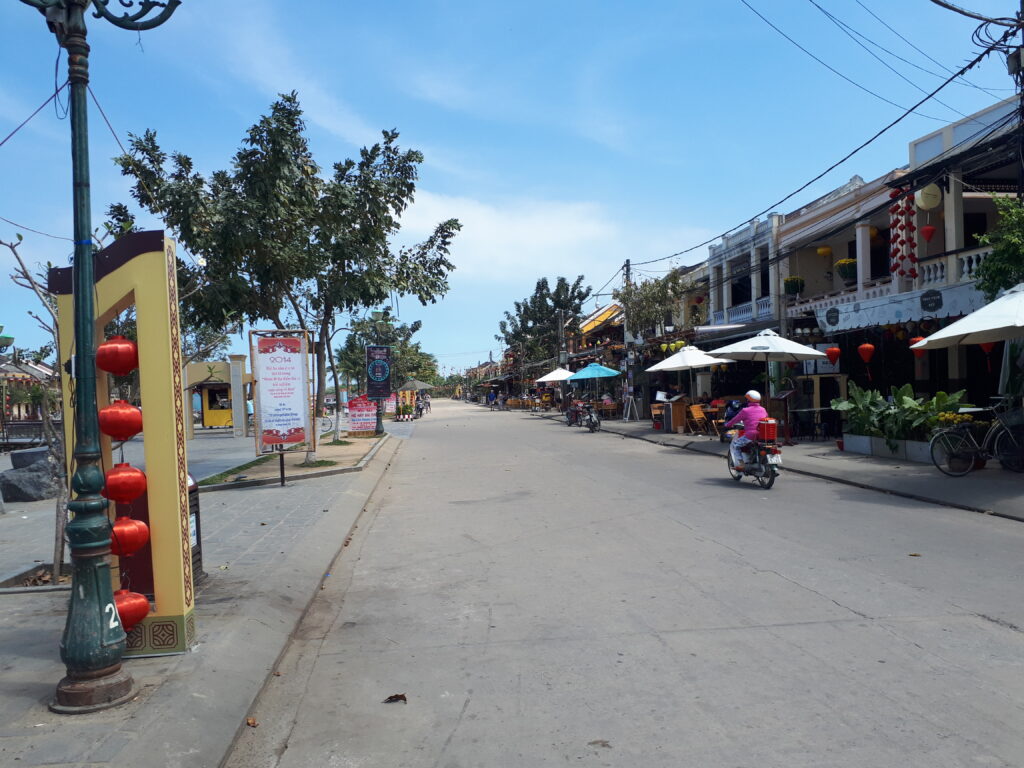 We laten het teveel in de lucht hangen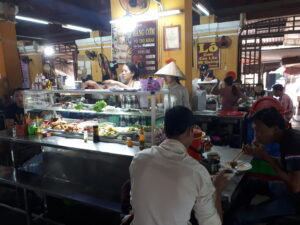 Op het 'busstation' moeten we ons weer door een haag van brommerboys werken. Want ze staan weer voor ons klaar hè, de geestverschijningen. Maar deze keer ben ik voorbereid en in ieder geval niet stomdronken. Alhoewel …

Op een gegeven moment weten we ons omringd door een drietal mannen met brommerhelmen die zo nodig bereid zijn om ons naar de andere kant van de wereld te brengen (nee, niet te helpen; zo erg is het nu ook weer niet) op hun aftandse bromfietsen. Met als enige tegenprestatie dat ze onze portemonnee mogen leegscheppen. En terwijl ze aan onze armen trekken en uitroepen dat ze ons zo graag willen helpen, proberen we op die 'o zo handige navigatie-apps' van Belle te vinden wáár dat verrekte Frangipani Guesthouse precies is gevestigd. Tegelijkertijd proberen die brommerboys uit alle macht mee te kijken op het beeldscherm. Één van hen beweert dat hij wel weet waar dat hotel staat. Op nog geen elf kilometer van het 'busstation' waar we ons nu bevinden. Ja, die kennen we. En dan 600.000 van die Vietnamese loempia's toucheren. Die vlieger gaat niet op maat. Daar trappen we niet meer in. Dit reisgezelschap is inmiddels gepokt en gemazeld. Met dank aan hun collega's Beavis and Butthead in Hué.
Vreemd genoeg hebben de westerse meisjes die bij ons in de bus zaten geen enkele last van al dat geronsel en gewauwel. De brommerboys laten heb links liggen alsof ze een besmettelijke ziekte met zich meedragen. Opvallend en merkwaardig. Dus vraag ik ernaar. Het meisje – een stoere Zweedse – lacht en bezweert me dat we veel resoluter 'nee' moeten zeggen:
'Jullie laten het teveel in de lucht hangen.'
'Maar ik heb gezegd dat we geen gebruik willen maken van hun diensten.'
'Ik vond het niet erg geloofwaardig overkomen.'
De teleurstelling van de brommerboys is groot wanneer we aangeven dat we gaan wandelen.
'Wandelen? In deze hitte? Het is elf kilometer.'
'Niet volgens de navigatie', bluf ik, want we hebben geen idee waar die verdraaide Red Frangipani is.'
'Volgens jullie navigatie? Ik woon hier al mijn hele leven en ik verzeker jullie dat het elf kilometer is naar The Red Frangipani.'
'We maken géén gebruik van jullie diensten', verklaar ik – de stoere Zweedse indachtig – zo beslist mogelijk. De brommerboys reageren best een beetje beledigd. Blijkbaar hadden ze echt op een rit gerekend.
Zo. Van die brommerboys zijn we af. Maar we hebben nog dertig meter gelopen met onze rugzakken of het zweet gutst van onze ruggen.
'Wat nu als het inderdaad elf kilometer wandelen is', vraag ik Belle. We hebben de locatie van de The Red Frangipani Villa namelijk nog steeds niet kunnen vinden op de apps. Bevrijd van de brommerboys, maar hopeloos verdwaald.
Achterdochtig kijk ik rond of ik geen brommerboy ontwaar die ergens op een afstand dit moment heeft staan afwachten. Maar vooralsnog blijft het rustig. Tenslotte besluiten we om dan toch maar een taxi te nemen. Op het gevaar af dat weer te veel betalen.
Dat blijkt uiteindelijk niet het geval. Althans … De gezette en zwijgzame chauffeur rekent zo'n mooie prijs dat ik hem 100.000 vd fooi geef waardoor we toch weer te duur uit zijn.
Lees verder: Altijd maar weer die karaoke